Who Speaks for Clay Shaw?
by Dave Reitzes
Part 1 of 4
Copyright © 1998-2001 by David A. Reitzes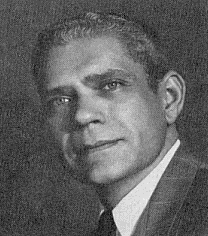 In March of 1967, Clay Lavergne Shaw of New Orleans, Louisiana was indicted for conspiring to assassinate President John F. Kennedy. It took exactly two years for his case to work its way through an arduous marathon of motions, continuances, and appeals. It took a jury less than an hour to acquit.

Did Clay Shaw conspire to assassinate President John F. Kennedy? The case against him will be examined here in its entirety.

It all began with "Clay Bertrand."


Meet Clay Bertrand

It was about 4:00 PM on Saturday, November 23, 1963, when New Orleans secretary Eva Springer became a bit player in one of the most puzzling episodes of the John F. Kennedy assassination investigation. Springer had just arrived home from grocery shopping when the phone rang. The voice on the other end of the line was that of her employer, attorney Dean Adams Andrews, Jr.

Andrews had never called Springer at home before, but he was hospitalized for pneumonia and needed her help. "I'm representing Lee Harvey Oswald in Dallas, Texas," he told her.[1]

A Damon Runyonesque character known for spinning tall tales in hipster argot straight out of the 1950s, Dean Andrews made much of his living representing vice offenders in New Orleans's legendary French Quarter. "When not talking, which is seldom," writes a friend of his, attorney Milton Brener, Andrews "is usually wearing a broad, boyish grin or laughing lustily, for he appears to see the world as a huge joke."[2]

After making it clear to her boss "that she was not going to Dallas with him and wanted nothing to do with the case,"[3] Eva Springer asked Andrews who had hired him. One word came back over the line, a word that meant absolutely nothing to her at the time: "Bertrand."[4]

The next day Andrews called his own attorney and friend, Sam "Monk" Zelden, and offered him a chance to assist with Oswald's defense.[5] As the two men spoke, Zelden saw Jack Ruby murder the accused assassin on live television. "Don't worry about it," Zelden said. "Your client just got shot."[6]

On Monday, November 25, Andrews phoned the local offices of the FBI and Secret Service and informed them that Lee Harvey Oswald had briefly been a client of his the previous summer and he had been accompanied on occasion by a man named Clay Bertrand. Andrews said that Bertrand had phoned him about representing Oswald in Dallas. He described Bertrand as "a youthful appearing person age 22-23, 5'7", 160 pounds, blonde hair and crew cut."[7]

Andrews called Springer and asked her to locate any relevant records in the office. She and investigator R. M. Davis spent a week searching the files, but not a scrap of paper could be found to indicate that Lee Oswald had ever been a client.[8] Questioned by the authorities, neither Springer nor Davis recalled ever meeting Oswald or had any knowledge of his having been in the office. Neither Springer nor Davis knew Clay Bertrand.[9]

The FBI and Secret Service could locate no trace of a Clay Bertrand in New Orleans. Bertrand was unknown to the New Orleans Police Department's Bureau of Identifications, their Detective Division, the Narcotics Squad, and the Vice Squad. No trace of the man could be turned up at the New Orleans Credit Bureau, the Louisiana State Employment Service, the Oretna employment office, Tulane University, or the Public Library.[10]

Questioned again on December 5th, Andrews said he had only met Bertrand once. Asked again for Bertrand's description, Andrews characterized him as a well-dressed man of 6'1" or 6'2", with brown hair.[11]

A few days later, Andrews told the FBI that "based on the discrepancy between his memory and facts as related to him by his employees and further the fact that he cannot identify Clay Bertrand, he can reach only one conclusion, that is, that the call received by him while in Hotel Dieu Hospital under sedation was a figment of his imagination."[12] He added that "after a careful and extensive search of his files,"[13] he could not find any trace of such a client.[14] Investigator R. M. Davis told the FBI that Andrews "is now convinced that the call he received at the hospital was a dream."[15]

The Warren Commission subpoenaed Andrews to testify about his knowledge of the alleged assassin and provide copies of all relevant records. On July 21, 1964, Andrews told commission counsel Wesley J. Liebeler that Oswald had come to his office "accompanied by some gay kids. They were Mexicanos. He wanted to find out what could be done in connection with a [US Marine Corps] discharge . . . so I explained to him he would have to advance the funds to transcribe whatever records they had up in the Adjutant General's office. When he brought the money, I would do the work, and we saw him three or four times subsequent to that, not in the company of the gay kids."[16] Andrews could not produce any records, he said, because his office had been burglarized.[17]

Asked about Clay Bertrand, Andrews described him as having "sandy hair, blue eyes, ruddy complexion," standing about 5'8" and weighing "about 165, 170, 175."[18]

Andrews explained:




I was in Hotel Dieu [Hospital], and the phone rang and a voice I recognized as Clay Bertrand asked me if I would go to Dallas . . . and defend [Oswald]. I told him I was sick in the hospital. If I couldn't go, I would find somebody that could go. . . . I had seen Clay Bertrand once some time ago, probably a couple of years. He's the one who calls in behalf of gay kids normally, either to obtain bond or parole for them. I would assume that he was the one that originally sent Oswald and the gay kids, these Mexicanos, to the office because I had never seen those people before at all. They were just walk-ins. . . .

Mr. LIEBELER. Now do you recall talking to an FBI agent, Regis L. Kennedy, and Carl L. Schlaeger on November 25? . . . Do you remember telling [Special Agent Kennedy] at that time that you thought that Clay Bertrand had come into the office with Oswald when Oswald had been in the office earlier last spring?

Mr. ANDREWS. No; I don't remember.

Mr. LIEBELER. Was Bertrand ever in the office with Oswald?

Mr. ANDREWS. Not that I remember.[19]




Didn't you tell the FBI, Liebeler asked, that "you finally came to the conclusion that Clay Bertrand was a figment of your imagination?"




Mr. ANDREWS. That's what the Feebees [FBI agents] put on. I know that the two Feebees are going to put these people on the street looking, and I can't find the guy, and I am not going to tie up all the agents on something that isn't that solid. I told them, "Write what you want, that I am nuts. I don't care." They were running on the time factor, and the hills were shook up plenty to get it, get it, get it. I couldn't give it to them. I have been playing cops and robbers with them. You can tell when the steam is on. They are on you like the plague. They never leave. They are like cancer. Eternal. . . . [20]




Now Andrews added a second encounter with Bertrand to his story.




Mr. ANDREWS. Oh, I ran up on that rat about six weeks ago and he spooked, ran in the street. I would have beat him with a chain if I had caught him. . . . I am trying to think of the name of this bar. That's where this rascal bums out. I was trying to get past him so I could get a nickel in the phone and call the Feebees or [Secret Service Agent] John Rice, but he saw me and spooked and ran. I haven't seen him since. . . . [21]

Mr. LIEBELER. . . . Now I have a rather lengthy report of an interview that Mr. Kennedy had with you on December 5, 1963, in which he reports you as stating that you had a mental picture of Clay Bertrand as being approximately six-feet-one-inch to six-feet-two-inches in height, brown hair, and well dressed.

Mr. ANDREWS. Yes.

Mr. LIEBELER. Now this description is different, at least in terms of height of the man, than the one you have just given us of Clay Bertrand.

Mr. ANDREWS. But, you know, I don't play Boy Scouts and measure them. I have only seen this fellow twice in my life. I don't think there is that much [difference] in the description. . . .

Mr. LIEBELER. I think you said he was five-feet-eight-inches before.

Mr. ANDREWS. Well, I can't give you any better because this time I was looking for the fellow, he was sitting down. I am just estimating. . . .

Mr. LIEBELER. . . . I am at a loss to understand why you told Agent Kennedy on December 5 that he was six-feet-one to six-feet-two and now you have told us that he was five-feet-eight when at no time did you see the man standing up.

Mr. ANDREWS. Because, I guess[ed] the first time -- and I am guessing now --

Mr. LIEBELER. Is this fellow a homosexual, do you say?

Mr. ANDREWS. Bisexual. What they call a swinging cat.

Mr. LIEBELER. And you haven't seen him at any time since that day?

Mr. ANDREWS. I haven't seen him since.

Mr. LIEBELER. . . . Has this fellow Bertrand sent you business in the past?

Mr. ANDREWS. Prior to -- I guess the last time would be February of 1963.

Mr. LIEBELER. And mostly he refers, I think you said, these gay kids, is that right?

Mr. ANDREWS. Right. . . . I wish I could be more specific, that's all. This is my impression, for whatever it is worth, of Clay Bertrand: His connections with Oswald I don't know at all. I think he is a lawyer without a briefcase. That's my opinion. . . .[22]




"There's three people I am going to find," Andrews told Liebeler. "One of them is the real guy that killed the President; the Mexican [who accompanied Oswald to his office]; and Clay Bertrand."[23]


Next: The search for "Clay Bertrand."




Part 1: Meet Clay Bertrand. It all started with a shadowy (and possibly non-existent) figure named "Clay Bertrand" mentioned to the Warren Commission by Dean Andrews.

Part 2: Who Was Clay Bertrand? Was there really a "Clay Bertrand," and did he have any connection to Clay Shaw?

Part 3: Clay Shaw: Assassin or Fall Guy? Jim Garrison attempts to link Shaw to an assassination conspiracy.

Part 4: A Question of Perjury. Garrison supporters, unable to show that Shaw conspired to kill Kennedy, often fall back to the claim that "he lied under oath." Is this true?





Back to the top
Back to the top