The JFK 100
Guy Banister Pistol-Whips Jack Martin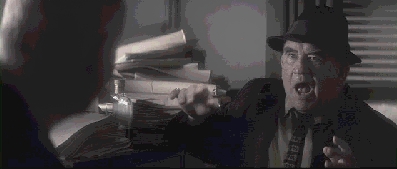 Guy Banister (Ed Asner) explodes at Jack Martin (Jack Lemmon)
One of the opening scenes of Oliver Stone's JFK is based on an account from onetime New Orleans District Attorney Jim Garrison's book, On the Trail of the Assassins.

"This pistol whipping occurs on the night of November 22, 1963," Stone explains, "on a rainy night in which this guy, Jack Martin, gets his skull laid open by his boss, Guy Banister, and out of that little Raymond Chandler kind of incident, Garrison spins this tale of international intrigue -- a hell of a trail. As a dramatist, that excited me." (1)

But what actually happened that night at Guy Banister's office?

According to Oliver Stone, Guy Banister was covering up some crucial information about the JFK assassination, which was why he exploded at Jack Martin.
BANISTER

Who'd ever thought that goofy Oswald kid would pull off a stunt like an assassination? (Martin waits) Just goes to show, you can never know about some people. Am I right, Jack? (Martin, frightened now, doesn't reply) Well, bless my soul. Your eyes are as red as two cherries, Jack. Don't tell me we have another bleeding heart here. Hell, all these years I thought you were on my side.

MARTIN

Chief, sometimes I don't know whether you're kidding or not.

BANISTER

I couldn't be more serious, Jack. Those big red eyes have me wondering about your loyalty.

Banister, going to a file cabinet to get a bottle out, notices one of the file drawers is slightly ajar. He flies into a rage.

BANISTER

Who the hell opened my files! You've been looking through my private files, haven't you, you weasel?

MARTIN

You may not like this, chief, but you're beginning to act paranoid. I mean, you really are.

BANISTER

. . . [Y]ou went through all my files to see what was going on. You're a goddamn spy.

MARTIN

(angry) Goddammit chief, why would I ever need to look in your files? I saw enough here this summer to write a book.

BANISTER

I always lock my files. And you were the only one here today . . . (stops as he hears Martin) What do you mean, you son of a bitch?

MARTIN

You know what I mean. I saw a lot of strange things going on in this office this summer. And a lotta strange people.

Enraged, Banister pulls a .357 Magnum from his holster, cursing as he suddenly slams it into Martin's temple. The smaller man crumples painfully to the ground. [New Orleans Police Report #K-12634-63, Nov. 22, 1963.]

BANISTER

You didn't see a goddamn thing, you little weasel. Do you get it? You didn't see a goddamn thing.(2)
Notice that the documented screenplay contained in JFK: The Book of the Film cites as its source for this episode New Orleans Police Report #K-12634-63, Nov. 22, 1963.
But what does that police report actually say? Here's the full report, authored by Lieutenant Francis L. Martello, addressed to Captain James H. Arnold, Commanding Officer, First District Station of the New Orleans Police Department.(3)
Lieutenant Francis L. Martello respectfully reports at about 8:45 P.M. on Friday, November 22, 1963, of having received a radio signal No. 58. It was learned from Radio Operator Sergeant Anthony Polito that he had received a telephone call from Major P.J. Trosclair, Jr., that Jack Martin, WM47, residing 1311 N. Prieur Street, was pistol whipped by Guy Bannister [sic -- Banister's name is misspelled throughout].

In company with Patrolmen M. Knaps and Ronald Roth, assigned to Car No. 11, we proceeded to the above address and upon arrival it was learned from the victim that at about 5:00 PM he was in the Katz & Jammer Bar, located at 540 Camp Street and had a drink with Guy Bannister, WM, residing 7059 Argonne Street. After leaving the bar they went to Bannister's Office, located 531 Lafayette St. While in the office they became involved in various discussions about personal and political subjects. The discussion led to some long distance telephone calls that were allegedly made by Jack Martin and Bannister accused Martin of making some unauthorized telephone calls and ran [sic] his telephone bill up. Jack Martin stated that he had worked for Guy Bannister as an Investigator from time to time and these phone calls he had made were supposed to have been made over a year ago. Jack Martin denied that he had made unauthorized long distance telephone calls on Bannister's telephone. The discussion became heated and Martin stated that Bannister told him, "Don't call me a liar." Martin replied that he was not calling him a liar. Bannister became enraged and drew a .357 S & W Magnum revolver from his holster and holding it by the butt struck Martin about his head five or six times with the gun barrell [sic]. When Martin began to bleed, Bannister stopped hitting him and told him to go to the restroom and wash up.

Martin went into the restroom and obtained a towel and placed it on his head. Martin further stated that Bannister told him to watch himself and to be careful. During the melee Martin stated that Delphine Roberts, WF, residing 1441 N. Miro Street, was present in the office. Martin then went to Charity Hospital and received treatment and went to his residence, where he called Major Presl[e]y J. Trosclair, Jr.

When asked if he wished to perfrer [sic] charges, Martin stated that he did not as Bannister was like a father to him, and that he could not put him in jail and they had been friends for a long time. He stated that Bannister should not be carrying a gun as he didn't think that he was authorized to carry one. Martin made this statement in the presence of Lt. Martello, Patrolmen M. Knaps, R. Roth and Mrs. Jack Martin.

Jack Martin was transported to the Baptist Hospital in Patrol Car No. 11. At the Hospital he was photographed by technician Claire Olsen. Upon examining Martin's head, he had three small lacerations on the forehead and one laceration on the rear of the head.

Jack Martin was again asked if he wished to press charges and he stated that he did not as Bannister was like a father to him and that he had worked for him and as far as he was concerned it was nothing to get irrated [sic] about, however, he could not understand why Bannister hit him with the gun. Martin then stated, "No, I do not wish to press charges at this times." He was asked what did he mean by this and he replied that he didn't want to hurt Bannister, but did not want to press charges at this time.

At about 4:00 P.M. on November 25, 1963, Lt. Martello in company with Patrol M. Knaps and [Robert] Buras went to the office of Guy Bannister, located at 531 Lafayette Street. Guy Bannister was interviewed concerning the complaint of Jack Martin and Mr. Bannister stated that he would not comment about this matter upon advise [sic] of his attorney.

Mrs. De[l]phine Roberts was interviewed and she stated that she would not make any comment on the advise [sic] of Mr. Bannister's Attorney.

Due to the victim, Jack Martin not wishing to press any charges against Mr. Bannister he was not arrested . . .
Article continues below.

W. Guy Banister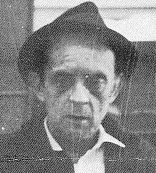 Jack S. Martin
In Jim Garrison's 1988 memoirs, On the Trail of the Assassins, Garrison states that Jack Martin told him the information he gave to the police on the night of November 22, 1963, was false -- that the dispute between Martin and Banister was not over telephone charges at all, but over far weightier matters, relating to the Kennedy assassination.(4)
But following the incident in November 1963, Martin confided to another Banister investigator, Joe Newbrough, that it was indeed Martin's long distance charges that provoked Banister's anger.(5)
To emphasize the unusual nature of the incident, Jim Garrison, who knew Guy Banister personally,(6) alleges that "it was unusual for Banister, a former special agent in charge of the Chicago office of the FBI, a [former] deputy superintendent of police in New Orleans, and a man who had a lifetime reputation as a rigid exponent of law and order," to behave in such a manner.(7)
"Although he enjoyed an occasional martini at the International House," Garrison writes, "Banister had never been known to drink heavily during the day. He was an austere, highly composed individual. However, on the long afternoon of television coverage of the assassination in Dallas, the ex-FBI man made a noble effort to polish off all of the liquor in the Katzenjammer [sic] Bar on the 500 block of Camp Street."(8)
But Garrison is distorting the facts about Banister. As the District Attorney himself told Life editor Richard Billings in December 1966, Banister was both a "violent man" and a "heavy drinker."(9) According to Garrison's 1966 description, Banister was "probably insane before he died,"(10) an assessment borne out by others who knew him.(11) Despite his former standing in the law enforcement community, Garrison advised Billings, Banister "went all the way down before he died" only a few months after the events of November 22nd.(12)
Guy Banister's behavior was noted to be violent and erratic on numerous occasions during the late 1950s and early 1960s. In fact, in 1957 he lost his job as Assistant Superintendent of the New Orleans Police Department when, while drinking, he pulled a gun on a waiter in a French Quarter bar; and on March 31, 1964, he was arrested on a charge of aggravated assault after allegedly brandishing a pistol at three youths on a city bus.(13)
There is one interesting thing about the blow-up between Banister and Martin that Stone does not report, however, and it happens to involve a certain David Ferrie. In fact, it could very well explain precisely why this altercation led to Jack Martin launching his barrage of false charges against Ferrie that weekend.
Who had informed Guy Banister that Jack S. Martin had been traveling around the country, making long distance calls and charging them to Guy Banister's office?
David Ferrie.(14)
Thus, it would seem that the events that triggered the strange actions of Guy Banister and Jack Martin that weekend were rooted in personal disputes, not matters involving the assassination of the President of the United States. Yet Guy Banister's attack upon Jack Martin is the keystone upon which Oliver Stone bases much of the theorizing that follows in his movie, JFK.
Copyright © 2001 by David Reitzes
NOTES:

1. James Riordan, Stone (New York: Hyperion, 1995), p. 352.

2. Oliver Stone and Zachary Sklar, JFK: The Book of the Film (New York: Applause, 1992), p. 15. All quotations are from the shooting script and may vary slightly from the finished motion picture.

3. JFK Record No. 180-10112-10372. Thanks to Jerry P. Shinley for e-mailing me a copy.

4. Jim Garrison, On the Trail of the Assassins (New York: Warner Books, 1992), p. 33. Although it is true that Jack Martin did make such a claim to Garrison, the onetime DA's 1988 account is highly unfaithful to Jack Martin's overall account of the pistol-whipping incident. For example, in a written memorandum to Garrison of February 20, 1968, co-authored with David F. Lewis, Martin claims that following the assassination, he approached Banister and not only informed him that he (Martin) was aware of Banister's complicity in the Kennedy assassination, but threatened to 'drop a nickel' and make a phone call right then and there, to "blow the whistle" on the onetime FBI agent. In Martin's February 1968 account, it was after making this bold threat and turning to take his leave that Banister whipped out his gun and attacked him.

5. Outside contact report, Joseph Newbrough, April 10, 1978, House Select Committee on Assassinations, p. 1 (JFK Document No. 009113). Ironically, Newbrough had trouble believing such a seemingly trivial subject could have inflamed Banister so.

6. Jim Garrison, On the Trail of the Assassins (New York: Warner Books, 1992), p. 2.

7. Jim Garrison, On the Trail of the Assassins (New York: Warner Books, 1992), p. 2.

8. Jim Garrison, On the Trail of the Assassins (New York: Warner Books, 1992), p. 3.

9. Richard Billings, "Dick Billings's personal notes on consultations and interviews with Garrison," December 29, 1966.

10. Richard Billings, "Dick Billings's personal notes on consultations and interviews with Garrison," December 29, 1966.

11. See for example House Select Committee Deposition of Aaron Kohn, November 7, 1978, p. 75: "What I didn't know until after his death when I was told this by his widow, was when Guy Banister retired from the FBI and came to New Orleans to accept his job in the police department that it was already known that he had brain damage, that he had undergone some surgery in Chicago and that apparently he was working out the remainder of the time necessary for his pension, a relatively short period of time, but that his wife, Mary, had been told by the doctors to expect his pattern of conduct to change dramatically because of brain damage, and incidentally it was after his death she told me this, that things about Guy Bannister's [sic] conduct for the first time made sense, including this very erratic conduct of his when he was in the police department when he would have moments that I would observe in which he did very irrational things and very hostile things." (Thanks again to Jerry P. Shinley.)

12. Richard Billings, "Dick Billings's personal notes on consultations and interviews with Garrison," December 29, 1966.

13. A. J. Weberman Web site, accessed 1999. Weberman's website has changed a bit since I posted this article; click here for the current version.

14. Warren Commission Document No. 75, p. 285.
Back to the top