The JFK 100
Witness Delphine Roberts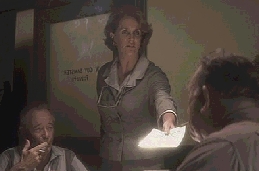 Ann Strub as Guy Banister's secretary, Delphine Roberts
with Jack Martin (Jack Lemmon) and Guy Banister (Ed Asner)
A witness only briefly referenced in Oliver Stone's JFK, but well worth a mention here, is Delphine Roberts, portrayed by Ann Strub.

Delphine Roberts was the personal secretary and mistress of New Orleans private investigator Guy Banister, one of Oliver Stone's prime suspects. Stone uses Roberts to corroborate Jack S. Martin's claim that Lee Harvey Oswald was associated with Banister.
FLASHBACK TO Banister's office in 1963. Banister and Martin shooting the breeze as the straight-laced middle-aged secretary, Delphine Roberts, hurries in.

MARTIN (VOICE OVER)

Yeah, one time the secretary got upset, I remember . . .

SECRETARY [DELPHINE ROBERTS]

I can't believe it, Mr. Banister. Lee Oswald is down on Canal Street giving out Communist leaflets supporting Castro!

Banister just looks at her and laughs.

BANISTER

It's okay, Delphine, he's with us.(1)
Stone is conflating a few facts here, but he has the essence of Delphine Roberts's recollections correct. Roberts told investigative journalist Anthony Summers in 1978 that she had been on her way to Banister's office one afternoon in the summer of 1963 when she saw "that young man passing out his pro-Castro leaflets in the street."(2)

According to Roberts, she informed her boss -- an avid watcher of leftists -- of what she had seen, and he replied, "Don't worry about him. He's a nervous fellow, he's confused. He's with us, he's associated with the office."(3)

There are problems with Delphine Roberts's credibility, however. First, her story has undergone numerous, often dramatic changes over time.

When questioned by New Orleans District Attorney Jim Garrison's staff in 1967, Roberts denied any personal knowledge of Lee Harvey Oswald.(4)

She initially repeated this in 1978,(5) but later told House Select Committee investigators that Banister had kept a file on Oswald's Fair Play for Cuba Committee activities, though that was the extent of her knowledge.(6) "She did not give an opinion on whether Oswald might have been working for Banister," and she "stated she never saw Oswald in person."(7)

Later still she seems to have had a change of heart. She told House Committee investigators that she did see Oswald in Banister's office on a few occasions after all.(8) Now she said, "She believed that Oswald was either working, or attempting to work, for Banister."(9)

She then told Anthony Summers that she actually saw Oswald in Banister's office numerous times, and she had come to believe that he was working "undercover" for Banister:
As I understood it he had the use of an office on the second floor, above the main office where we worked. I was not greatly surprised when I learned he was going up and down, back and forth.(10)
This is a most unusual observation, however, since Guy Banister's office was not connected to any offices on the second floor; one had to leave the building and walk around the corner to access such an office. It was Jim Garrison, in 1966, who originated the myth that Guy Banister's 531 Lafayette Street office was connected to the second floor offices of 544 Camp Street.
Then, several times [Roberts continues], Mr. Banister brought me upstairs, and in the office above I saw various writings stuck up on the wall pertaining to Cuba. There were various leaflets up there pertaining to Fair Play for Cuba. They were pro-Castro leaflets. Banister just didn't say anything about them one way or the other.(11)
One would expect the building's owner and landlord, Sam Newman, to be aware that one of his first-floor tenants was making use of a vacant room around the corner on the second floor of his building, but Newman denied anyone did so, and he himself never saw Lee Harvey Oswald in or around the building.(12)
The building's janitor, James Arthus, lived on the premises at 544 Camp Street, where these second-floor offices were, and he too never saw Oswald there.(13) None of the building's other tenants remembered seeing Oswald that summer either, and certainly no one else in Banister's office recalls Oswald "going up and down, back and forth" between the two offices around the corner from one another.(14)
Delphine Roberts also began claiming that Oswald once brought his wife by the office,(15) though Marina Oswald denies ever having been to any such office with her husband.(16)
Despite an apparent eagerness to link Oswald to the allegedly Mob-connected David Ferrie (a part-time investigator for Banister at one time), the Mob-thirsty House Select Committee could not accept Delphine Roberts's testimony.(17) HSCA Chief Counsel G. Robert Blakey would later write that Roberts's "demeanor as a witness did not lead us to place much credence in her testimony."(18)
Then there is the larger question of Delphine Roberts's credibility in general.
Author Gerald Posner interviewed Roberts and came away with some most fascinating material. He found, for example, that Roberts "claims to be related to the 'king and queen of Wales [sic] and Mary Queen of Scots,' as well as 'being one of the very few, since the beginning of the world, who has ever read the sacred scrolls that God himself wrote and gave to the ancient Hebrews for placing in the Ark of the Covenant. . . . I think I have been the last person to see them.'"(19) She told Posner she was writing a book on the Kennedy assassination, "although it will also tell the story of the Creation."(20)
Roberts was also pleased to volunteer a great deal of information on her white supremacist views, which don't seem to have mellowed much over the years.(21) This information supplements earlier Roberts anecdotes, such as her recollection that around the time she and Guy Banister met, she saw "Fidel Castro and his top aide Che Guevara walking on Canal Street" while Roberts was holding a demonstration in tribute to the American flag.(22)
The bottom line is that Jim Garrison came up with a theory that Lee Harvey Oswald had used Guy Banister's address, then went out to find witnesses to support his view. As one of Garrison's former assistant DAs has remarked, it wasn't uncommon for the DA and his staff to file charges and then go out and find whatever dubious "evidence" they could in order to make the charges work.(23) "Most of the time you marshal your facts, then deduce your theories," observes another of Garrison's former assistants, Charles Ward. "But Garrison deduced a theory, then he marshaled the facts. And if the facts didn't fit he'd say they had been altered by the CIA."(24)
Unfortunately, witnesses like Jack Martin and Delphine Roberts lack the credibility to provide any legitimate confirmation for Garrison's theories.
Copyright © 2001 by David Reitzes
You may wish to see . . .
The JFK 100: Who Was Guy Banister?
NOTES:

1. Oliver Stone and Zachary Sklar, JFK: The Book of the Film (New York: Applause, 1992), p. 41. All quotations are from the shooting script and may vary slightly from the finished motion picture.

2. Anthony Summers, Conspiracy (New York: Paragon, 1989), p. 295.

3. Anthony Summers, Conspiracy (New York: Paragon, 1989), p. 295.

4. NODA interview of Delphine Roberts, January 19, 1967.

5. House Select Committee Hearings Vol. X, p. 129; Anthony Summers, Conspiracy, 1989 Paragon ed., p. 294.

6. NARA 180-10075-10292; A. J. Weberman Web site. Weberman's website has changed a bit since I posted this article; click here for the current version.

7. NARA 180-10075-10292; A. J. Weberman Web site.

8. NARA 180-10075-10292; A. J. Weberman Web site.

9. NARA 180-10075-10292; A. J. Weberman Web site.

10. House Select Committee Hearings Vol. X, p. 129; Summers, p. 295.

11. House Select Committee Hearings Vol. X, pp. 124, 128.

12. House Select Committee Hearings Vol. X, pp. 124-25.

13. House Select Committee Hearings Vol. X, pp. 124-25. Other offices located there at that time were those of the Hotel, Motel, and Restaurant Workers' Union; and the Amalgamated Association of Street Electric Railway and Motor Coach Employees of America.

14. Anthony Summers, Conspiracy, 1989 Paragon ed., 295. Banister associates such as Joe Newbrough, Vernon Gerdes, Mary Brengel, Ivan "Bill" Nitschke, and Joseph Oster all told the House committee that they had never seen Lee Harvey Oswald at the Newman Building, and did not know of any connection Oswald might have had to Guy Banister (House Select Committee Hearings Vol. X, 128). Jack Mancuso, owner of Mancuso's restaurant, "recalled that Guy Banister and his associates Jack Martin and David Ferrie were 'steady' customers, but Mancuso could not personally recall ever having seen Oswald." (Ibid., p. 135.)

15. House Select Committee Hearings Vol. X, p. 129; Summers, p. 314.

16. House Select Committee Hearings Vol. II, p. 253; Summers, p. 314.

17. House Select Committee Hearings Vol. X, pp. 123, 129.

18. G. Robert Blakey and Richard N. Billings, Fatal Hour (New York: Berkley, 1992), p. 190. It is sometimes claimed that Delphine Roberts's daughter, Delphine Jr., supports her mother's account, but this is not precisely so. The younger Delphine claims that Oswald did not have an office at 544 Camp, but rather that "he lived there, had an apartment there, for two or three months." (Gerald Posner, Case Closed [New York: Random House, 1993], p. 140.) She says that "Oswald came to 544 Camp at night and left every morning, (Ibid.) despite the fact that Oswald spent every night that summer with his wife and daughter (except on August 9, when he spent the night in jail). (Testimony of Marina Oswald Porter, Clay Shaw trial transcript, February 21, 1969, [2031], pp. 17-19.)

19. Posner, p. 140.

20. Posner, p. 140.

21. Posner, p. 140. A. J. Weberman writes:

Delphine Roberts told the HSCA: "Her family goes back to Jeb Stuart on her mother's side, and because of this blood line, she is a member of the Daughters of the American Revolution and the Daughters of the Confederacy . . . Delphine Roberts became concerned about our Country when President Roosevelt and his Negro wife, Eleanor, got the US into the United Nations, which has its charter based on the Communist Manifesto. . . ." In the early 1960's Delphine was active in anti-Communist activities and became involved in the anti-integration movement. She was written about in the national news and in Pravda for some of her demonstrations." On March 4, 1961 Delphine Roberts participated in a demonstration at William Franz School during which she carried a sign, "The Lord commanded 'That the tribes not be mingled.'" On January 27, 1962, Delphine Roberts ran for Councilman-at-Large, as a Conservative Independent Democrat for the Mayoralty Primary Election. In her platform the following statements were made:

The Subject is a white supremacist and segregationist, and would work toward the preservation of the White race.

Separation of Church and State.

Against such organizations as CORE, NAACP, Save Our Schools etc. which have as their goals the integration and mongrelization of the races.

Anti-communist.

Against the United Nations, because by association with this organization, the U.S. is giving aid and comfort to the enemy.

Opposed to the utilization of public building space, rent-free by the League of Women Voters, which Subject considers to be a Communist organization.

Opposed to the integration of the New Orleans Police Department.

Opposed to utilization of Federal aid.

Opposed to integration of public facilities, such as parks, playgrounds, etc.

Opposed to integration of transportation.

Opposed to integration of fire department.

Opposed to Fluoridation.

Would attempt to promote a city ordinance outlawing communism or any left-wing activities from taking place within the city limits of New Orleans, Louisiana.

Opposed to urban renewal.

Condemned the Diary of Ann Frank as being a filthy book, which students should not be permitted to read.

Separation of sanitary facilities as to White and Colored . . .(A. J. Weberman Web site.)

On April 16, 1962, the New Orleans Times-Picayune contained an article entitled "Catholic Church Picketed by Trio." It stated the Delphine Roberts was one of three women who picketed St. Patrick's Catholic Church during worship hours on Sunday to protest the desegregation of Catholic Schools. The May 26, 1962, issue of the Louisiana Weekly carried an article entitled "Children Used in Hate Picketing." This article stated that on the previous Saturday five young children were utilized in the picketing of the residence of Archbishop Rummel. One of the demonstrators was identified as Delphine Roberts and she carried a sign which read, "Caroline Kennedy is segregated -- excommunicate her father." On September 4, 1962, Delphine Roberts was observed in a picket demonstration protesting the integration of St. Rose of Lime School. Delphine Roberts stated: "She joined the New Orleans White Citizen's Council and attended some PTA meetings trying to prove the integration of our schools was a communist plot to destroy our Country. She knew Leander Perez of Plaquemines Parish and was later excommunicated from the Roman Catholic Church with him . . . She worked with an investigator from the Louisiana Sovereignty Commission on several New Orleans groups that were anti-American. . . . Sometime in early 1961 or 1962 Delphine Roberts decided that the American flag was not receiving the respect that it should in the city and she decided to put up a booth on Canal Street to promote the flag. The booth had a loud speaker system and American flags and Confederate flags all around it and she and her mother Amelia manned it . . . She would play march songs and talk about the flag and the UN. The merchants on Canal Street, who are all Jews, made a complaint about her booth and the police came to arrest her. That was the first time that she met Guy Banister. He came into the booth with her and her mother wearing a suit, a hat and a gun. He told the police that they would have to arrest him too. The police never arrested anyone but did ask that they set a date to leave. A date was set and they left. She and Banister became friends after that, and she worked with him as a volunteer, because he was working for what she believed in. She did secretarial work such as typing correspondence, making files, clipping newspapers etc. She knew his system, and remembers he had one of the largest and most complete files of communists and fellow travelers . . ." (NARA 180-10075-10292; A. J. Weberman Web site.)

22. NARA 180-10075-10292; A. J. Weberman Web site.

23. Patricia Lambert, False Witness (New York: M. Evans and Co., 1998), p. 132 fn.

24. Patricia Lambert, False Witness (New York: M. Evans and Co., 1998), p. 228.
You may wish to see . . .
The JFK 100: Who Was Guy Banister?