The JFK 100
The Death of David Ferrie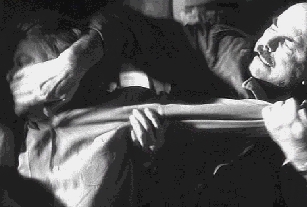 Was foul play involved in David Ferrie's death?
In a film that incited its fair share of controversy and then some, one of the most heavily criticized scenes concerns the death of David Ferrie, a target in the assassination probe of New Orleans District Attorney Jim Garrison.

While the film was still in production, Washington Post columnist George Lardner, Jr., obtained a copy of the first draft of the screenplay from veteran assassination researcher and author Harold Weisberg. "And while there isn't space to list all the errors and absurdities, large and small," Lardner wrote in the Post, "some are deserving of special mention." "For this reporter, one of the most interesting flights of fancy involves the death of David Ferrie, one of Garrison's prime targets. I was probably the last person to see him alive."(1)

Lardner continues:
On Feb. 22, 1967, five days after the New Orleans States-Item disclosed Garrison's probe, Ferrie was found dead in his apartment. Garrison promptly pronounced him "one of history's important individuals" and claimed that he had been about to "arrest" Ferrie on unspecified charges. [See below.] "There's no question about the fact that it's a suicide," the DA said.

The coroner, Dr. Nicholas Chetta, held flatly that Ferrie, 49, died of natural causes despite several undated notes found in his apartment that suggested suicide and unrequited love for a man named "Al." Chetta said death was due to a cerebral hemorrhage. Ferrie, he declared, could only have killed himself by worrying himself to death under the "stress and strain" of Garrison's investigation.

Stone gives Ferrie's demise a different spin, at least in the script he started with. In a scene labeled the "NIGHT BEFORE," Ferrie runs into the toilet, looking terrified, chased by two Cubans known as "Bull" and "the Indian." They catch Ferrie at the sink, "yank him back by the hair," and start forcing medicine down his throat. Moments later, they are busy typing a note, perhaps trying to force Ferrie to sign it as "he convulses, dies."

Strange. I used that same bathroom a few hours later, in the course of a four-hour conversation with Ferrie (he said he was convinced Garrison's investigation would turn out to be a "witch hunt"). Ferrie was very much alive when we walked downstairs at around 4 AM. I didn't see any Cubans -- or anyone else.

As for Ferrie's hair, there was none to yank him back by. The grotesque-looking wretch wore a red wig that . . . seemed to be cut from a rug, and penciled-in eyebrows. He didn't have a hair on his head or anywhere else, as reporters later confirmed on visits to the morgue. And there wasn't a mark on his body to suggest rough handling by any "Bull" or "Indian."(2)
Lardner was correct; David Ferrie's death was indisputably a natural one.

On Friday, February 17, 1967, a few days before David Ferrie's death, he invited reporter David Snyder over to his apartment for an interview. Patricia Lambert writes that when Snyder arrived he found Ferrie "physically ill . . . his voice was barely audible, his breathing 'unsteady.' . . . As they climbed the stairs to his second floor apartment, Ferrie's 'steps were feeble' and he said he had encephalitis [an inflammation of the brain]. He didn't mention it then but he had also been having severe headaches. Without knowing it, he had suffered one, perhaps two, 'small bleeds,' minor ruptures in a blood vessel at the back of his head."(3)

In addition to coroner Nicholas Chetta's autopsy report, Lambert's source on Ferrie's condition is Dr. Ronald A. Welsh, whom she interviewed in 1993. Welsh told her that microscopic slides of Ferrie's brain tissue indicated that in addition to blood vessel perforating, there was "scar tissue indicating that Ferrie had had another bleed, a small one, previously . . . at least one or two of them at least two weeks before he died. This is a common occurence with berry aneurysms," Welsh told her, "people have one or two before they blow out completely . . . His headaches were from the early bleeds."(4)
Though no evidence supported it [Lambert continues] Garrison theorized that Ferrie had deliberately overdosed on his thyroid medication, Proloid, a medical improbability due to the slow-acting nature of the drug. One doctor recently said that Ferrie could have swallowed an entire bottle of it without an immediate effect. Garrison persisted in his contention, however, and pressured the coroner to return a suicide verdict. Dr. Chetta refused. The autopsy pathologist, Dr. Ronald Welsh, in a 1993 interview with me, said he had been outraged by Garrison's campaign to make something out of nothing and corrupt the scientific process.(5)
"That Proloid could be fatal under any circumstances is unlikely," Lambert adds, "but, if possible, the experts say it would require massive doses over a prolonged period. Garrison questioned Ferrie's taking this medication at all and stated in his memoir that Ferrie had no condition requiring it. But he did."(6)

Journalist James Phelan has this to add:
In the autopsy performed on Ferrie by the New Orleans coroner, the cause of death was found to be a "berry aneurysm." I recalled a sensational murder case years earlier that involved a berry aneurysm, which is medicalese for the failure of a blood vessel inside the skull. In this case, the victim had died during a fight and his assailant had been charged with murder. The autopsy had disclosed the cause of death to be a berry aneurysm, and the assailant had been acquitted.

I picked up the hotel phone and called a friend of mine in California, Dr. Eugene Blumberg, who was a sort of walking National Archives on brain damage. I told him I was working on a story where a man had died of a berry aneurysm, and there were rumors that he had either committed suicide or been murdered.

"Not if the autopsy showed berry aneurysm as the cause of death," said Blumberg.

"That's what I remember, Gene," I told him. "Could you locate any medical findings on this?"

A couple of hours later he called back with two citations. "This is from 'The Relationship of Brain Injury to Other Organic Diseases of the Brain,' by Dr. I. W. Wechsler," he said. "It's short and I'll read it."

"'The rupture of these berry aneurysms is not due to external injury, since these aneurysms are almost always too deep-seated and too well-cushioned by surrounding brain to be so affected.'"

The second citation was from the murder case I remembered.

"Two men got into a fight," Dr. Blumberg said. "One knocked the other down and he struck his head on the sidewalk and died. The fellow who hit him was charged with murder. But the autopsy showed that the victim died of a berry aneurysm. The New York forensic medical authority, Dr. Milton Halpern, testified for the defense and the man was acquitted. The key portion of Halpern's testimony reads: 'The rupture of an aneurysm of this nature due to direct physical trauma does not occur. The aneurysm ruptures spontaneously from within.'"

So much for "The Strange Death of David Ferrie," as some of the papers were calling it. According to Blumberg, a berry aneurysm is a congenital defect. David Ferrie had been born with a weak artery wall in his hairless head, and it had picked a dreadful time to give way.(7)
Patricia Lambert continues:
Garrison immediately announced that he and his aides had made the decision that very morning "to arrest" Ferrie "early next week." That was not true. But for twenty-seven years, no one in the Garrison camp admitted it publicly. In 1994 James Alcock [a former Assistant DA under Garrison and the lead Shaw trial prosecutor] went on record with the truth. "To my knowledge," he told me, speaking each word deliberately, 'there was no intent to arrest David Ferrie." Alcock should know. He was one of those Garrison said was present when the "decision" was made.(8)
Article continues below.

David Ferrie
Oliver Stone cried foul when George Lardner's Washington Post article appeared, pointing out that Lardner had merely seen the first draft of the script, while Stone and his crew were currently shooting from the sixth draft.(9)
Yet for all Stone's protests, when JFK hit movie theaters in December 1991, its depiction of David Ferrie's death had changed little from the first draft.
Patricia Lambert writes:
Stone's lurid version of Ferrie's death generated more reaction than any other individual scene. James Alcock was one of those complaining. The evening Ferrie died, according to Alcock, he and [Garrison's chief investigator] Louis Ivon were across the street keeping Ferrie's apartment under surveillance, all night long. "I didn't see any murder," Alcock said recently, with an air of exasperation. He knew where the idea came from though. In the meeting he had with Garrison, Stone, and [Kevin] Costner, Costner referred to Ferrie's death as "the murder." "I knew immediately," Alcock said, that Costner "had been talking to Garrison." The scene in the movie "where people were pouring stuff down Ferrie's throat and killing him -- that just didn't happen," Alcock stated.(10)
As an assistant DA, James Alcock worked as diligently as anyone on the prosecution of Clay Shaw. As another of Garrison's onetime assistant DA's, John Volz, stated recently, "Jimmy [Alcock] was a soldier. If Jim Garrison had said, go jump off a bridge, Jim would have done it."(11) In the years since Garrison left office, Alcock has kept a low profile, refusing most requests for interviews about the JFK probe.

But when Alcock met with Oliver Stone in 1991, he was not pleased with the direction he saw the filmmaker headed. "Jim [Garrison] was still going on with some of the theories that were totally contrary to what we were trying to prove in the case," Alcock told Patricia Lambert in 1994. After their initial meeting, Stone did not bother to contact Alcock again. "I guess they could sense I wasn't going to be part of that," Alcock says.(12)

Copyright © 2001 by David Reitzes

You may wish to see . . .

The JFK 100: Who Was David Ferrie?

The JFK 100: David Ferrie Becomes a Suspect
NOTES:

1. George Lardner, Jr., "On the Set: Dallas in Wonderland," Washington Post, May 19, 1991, reprinted in Oliver Stone and Zachary Sklar, JFK: The Book of the Film (New York: Applause, 1992), p. 192.

2. George Lardner, Jr., "On the Set: Dallas in Wonderland," Washington Post, May 19, 1991, reprinted in Oliver Stone and Zachary Sklar, JFK: The Book of the Film (New York: Applause, 1992), pp. 192-93.

3. Patricia Lambert, False Witness (New York: M. Evans and Co., 1998), p. 58.

4. Patricia Lambert, False Witness (New York: M. Evans and Co., 1998), p. 302 fn. 12.

5. Patricia Lambert, False Witness (New York: M. Evans and Co., 1998), p. 64.

6. Patricia Lambert, False Witness (New York: M. Evans and Co., 1998), pp. 303-04, fn. 33. "As a young man Ferrie had been diagnosed with a thyroid deficiency that was believed to be the cause of his alopecia (hair loss)." (Lambert, p. 282, item 28.)

7. James Phelan, Scandals, Scamps and Scoundrels: The Casebook of an Investigative Reporter (New York: Random House, 1982), pp. 141-42.

8. Patricia Lambert, False Witness (New York: M. Evans and Co., 1998), p. 65.

9. Oliver Stone, "The Post, George Lardner and My Version of the JFK Assassination," Washington Post, June 2, 1991, reprinted in Oliver Stone and Zachary Sklar, JFK: The Book of the Film (New York: Applause, 1992), p. 199.

10. Patricia Lambert, False Witness (New York: M. Evans and Co., 1998), p. 216.

11. Time Machine: False Witness, History Channel documentary, 2000.

12. Patricia Lambert, False Witness (New York: M. Evans and Co., 1998), p. 214.
You may wish to see . . .
The JFK 100: Who Was David Ferrie?
The JFK 100: David Ferrie Becomes a Suspect