The JFK 100
Others Arrested in Dealey Plaza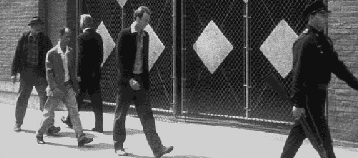 Suspicious goings-on in Dealey Plaza?
In Oliver Stone's JFK, New Orleans District Attorney Jim Garrison (Kevin Costner) alleges that something funny was going on between the Dallas police and some potential suspects.

"At least twelve other individuals [besides Lee Harvey Oswald] were taken into custody by Dallas police," Stone claims. "No records of their arrests [exist]. Men acting like hoboes were being pulled off trains, marched through Dealey Plaza, photographed, and yet there is no records [sic] of their arrests."(1)

Stone's figure of "at least twelve" suspects arrested is based on an identical claim in Jim Marrs's book, Crossfire. Marrs's figure is fictional, however; it conflates suspects who were arrested with witnesses detained for questioning, all of whose names and personal information were recorded.(2)

As for Stone's three sinister "men acting like hoboes," they have been identified. At the time Stone was filming JFK, the November 22, 1963, arrest records of the three men were sitting in the Dallas city archives, where they had been declassified, along with a mountain of other assassination-related material, since 1989. They were discovered on February 3, 1992, by researcher Mary La Fontaine. The men's names were Harold Doyle, Gus Abrams, and John Forrester Gedney.(3)

Richard Trask writes:
[Ray and Mary La Fontaine] traced the one man who had given an address of West Virginia [Harold Doyle], first to that state and then to Amarillo, Texas where at least one neighbor recalled his telling of his arrest in Dallas in 1963. Doyle, a now balding, pudgy, affable character with a "man of the road" manner of expressing himself, was finally located in Klamath Falls, Oregon where he had a small apartment and worked part time in a local pool hall. He told his story to the La Fontaines who sold this exclusive to the sensationalistic television program, A Current Affair. The taped piece ran on February 25, 1992, with a follow-up segment in early March. In a seeming first, a tabloid-like, often exploitative genre TV program was laying to rest, rather than promoting or instigating, a long held possible conspiracy theory. It was fascinating television, and as soon as the now 61-year-old Doyle appeared in view, his face was recognizable to many who had seen the "tramp" photos during years of research. His story was not sensational, but rang of truth.

Article continues below.


Harold Doyle on Nov. 22, 1963


Harold Doyle circa 1985

Beginning the day at a homeless shelter in the vicinity of Dealey Plaza, Doyle and his two companions had decided to hitch a train ride to Fort Worth. ". . . [B]efore we went to the railroad yard, sirens and everything was going on and all, and we asked somebody what happened and they said the President been shot. Then all at once someone said, 'Don't make a move.' We looked up the end we were sitting in and the far end down the side we were surrounded by policemen with guns drawn and they said, 'Don't make a move.'" The three were pulled out of the boxcar. Doyle remembers that the police ". . . took us through the park [Dealey Plaza]. All the people was going on and the sirens was going and people was taking pictures of us coming over this a way. Hell, there was all photographers, people hollering, 'Are they the one that done it? Are they the one that done it?'" At the police station Doyle was at one point across a desk from the recently arrested Lee Oswald, and someone said to the vagrants, "You boys are sure lucky. You see the guy that killed the President in person."

Doyle had known about the "tramp" controversy for some time, having kept a copy of at least one article including a photo published about the mystery. Not the type to come forward to authorities about his role on November 22, he has feigned notoriety stating, "I'm a plain guy, a simple country boy, and that's the way I want to stay. I wouldn't be a celebrity for 10 million damn dollars." Believing the controversy over the photos of the tramps might imply his having taken part in a conspiracy, Doyle emphasized, "But like I said, I had nothing to do with it. Don't bother me whether they believe me or not. If they want to think I did it, its up to the individual. . . . But like I said, the 'tramps' had nothing to do with it."

Subsequent inquiries by the government as well as by researchers located John F. Gedney in Melbourne, Florida. A respected 67-year-old municipal officer, Gedney had not been driven to speak to outsiders about this earlier, harder, vagabond time of his life. At that time in 1963 he was making his way towards Alaska where there seemed more work opportunities. He is not now enthusiastic about all of the new notoriety and crazy speculation. Of the incident in Dallas he told one reporter, "We were taken away, put in jail for three or four days and found not guilty of anything except vagrancy." Gus Abrams was 76 when he died in Ohio in August 1987. Contacted by a researcher, Abrams' sister, with whom he had lived for the last 15 years, knew nothing of his being in Dallas the day of the assassination. She recalled that back in those days, "he was always on the go hopping trains and drinking wine." She speculated he didn't even know who the President was. When presented with a picture of the November 22 "tramps" she confirmed to the researcher, "Yep, that's my Bill!"(4)
Click here to read Mary La Fontaine's 1992
Houston Post article on the "three tramps."
Copyright © 2001 by David Reitzes
NOTES:

1. Oliver Stone and Zachary Sklar, JFK: The Book of the Film (New York: Applause, 1992), p. 167. All quotations are from the shooting script and may vary slightly from the finished motion picture.

2. Jim Marrs, Crossfire (New York: Carroll and Graf, 1989), pp. 336-37.

3. Ray and Mary La Fontaine, Oswald Talked (New York: Pelican, 1996), pp. 24-27. The La Fontaines subsequently proceeded to weave an untenable conspiracy theory about another vagrant arrested that day, John Franklin Elrod; Elrod subsequently became the centerpiece of Oswald Talked, which was quickly discredited upon its publication. None of this, of course, affects the factual nature of her original discovery.

3. Ray and Mary La Fontaine, Oswald Talked (New York: Pelican, 1996), pp. 24-27. Richard B. Trask, Pictures of the Pain (Danvers, Mass.: Yeoman, 1994), pp. 346-47.
Back to the top