The JFK 100
Clay Shaw's Orgy with David Ferrie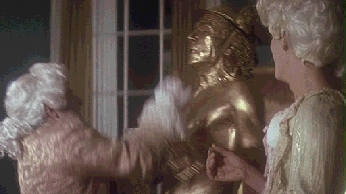 Clay Shaw (Tommy Lee Jones, center) with David Ferrie
(Joe Pesci) and "Willie O'Keefe" (Kevin Bacon)
One of the most controversial scenes in Oliver Stone's eminently controversial JFK depicts New Orleans businessman Clay Shaw engaging in an orgy of drugs and sex with several men. The scene occurs as New Orleans District Attorney Jim Garrison (Kevin Costner) questions Shaw about his personal life.

Is Shaw acquainted with a man named "Willie O'Keefe?" Garrison asks. Shaw says he is not. Does Shaw know a David Ferrie? No, he does not. Director Oliver Stone then cuts to a flashback, showing Shaw, Ferrie, "O'Keefe," and an unnamed young "chicken" (slang for a young gay man) engaging in a homosexual orgy:
We see the four men in drag, smiling for the flash camera, champagne bottles in hand. Ferrie sniffs some poppers, then shoves a popper in Shaw's face.

FERRIE (to Shaw)

You're mine, Mary. Go get the f****** tools out, bitch. Now! I want some ass.

Ferrie forces more poppers on Shaw. The camera movies to Shaw's bedroom, where Ferrie scatters a drawer full of leather tools.

FERRIE (CONT'D) (to Shaw)

Come here, bitch.

(Ferrie grabs Shaw by the hair)


You want this? The only way you get this is do what I say.


(Ferrie whacks Shaw)


I'm the man. Don't ever forget it.


(Shaw begs and whines)


You want it? You want it?


(Ferrie spits on Shaw)


F*** you and your rich friends. You're nothing but a rich whore! You're my woman! Get the cat!


(to young man)


Strip! Now, woman. I want to see skin.(1)
Even some of Jim Garrison's staunchest friends and supporters were sickened. Longtime advocate and personal friend of the former DA, Rush to Judgment author Mark Lane, blasted Stone for the scene. With Clay Shaw dead, Lane observed, "Stone was not bound by the laws of defamation which apply, in the United States, only to the living. Apparently, the less-codified rules of common decency were not an impediment either."(2) "Where Stone labors to demean Clay Shaw and to condemn him by introducing a bizarre gay orgy scene," Lane concludes, ". . . he is indulging his own fantasies and misleading the audience."(3)

In response to his critics, Oliver Stone insisted he was only being faithful to the historical record. "The homosexual connection in JFK was a necessity," he said. ". . . That's why we showed the party, because it's the only room where Perry Russo ran into him. The parties were S&M. There were several witnesses to this."(4)

This is completely false. Oliver Stone knows perfectly well that Garrison's star witness, Perry Raymond Russo, never described any orgy like this, and neither did any of Garrison's other witnesses.

Stone claimed that the scene was supported by a photograph, allegedly depicting Clay Shaw and David Ferrie together in drag. The photograph, taken in 1949, does not depict any kind of homosexual party -- much less an orgy! -- but a party thrown during Mardi Gras season to benefit New Orleans radio station WDSU. Clay Shaw and another man are wearing mop wigs; the man is not David Ferrie, but rather New Orleans dentist J. Mofield Roberts. (There is no credible evidence that Shaw and Ferrie ever met one another. During his ordeal with Garrison, Shaw once confided to a close friend, Gail Baumgartner, that he actually wished he had met Ferrie. Judging from all he'd heard about the man, Shaw said, "he probably would have found [Ferrie] fascinating.")

Article continues below.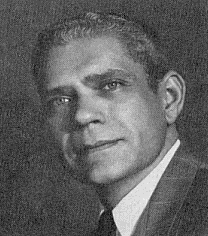 Clay Shaw

David Ferrie
Another element of the orgy scene came, not from any "S&M party," but from Mardi Gras.
Actor Tommy Lee Jones has described how he learned from a taped interview with one of Clay Shaw's associates that Shaw "had painted himself up like the winged Mercury one Mardi Gras, and I went running . . . to Oliver and said, 'Got to paint myself gold, man,' and he said, 'What?' I finally sold him on the idea."(5)
Few viewers, of course, would be likely to confuse Oliver Stone's "S&M party" with New Orleans's annual Mardi Gras celebration.
One could argue whether it would have been ethical to include a scene like this under any circumstances; but given its sole origin in Stone's imagination, it seems particularly difficult to justify.
Copyright © 2001 by David Reitzes

You may wish to see . . .

The JFK 100: Who Was Clay Shaw?

The JFK 100: Who Was David Ferrie?
NOTES:

1. Oliver Stone and Zachary Sklar, JFK: The Book of the Film (New York: Applause, 1992), pp. 81-82. All quotations are from the shooting script and may vary slightly from the finished motion picture.

2. Mark Lane, "Fact or Fiction? The Moviegoer's Guide to the Film JFK," Rush to Judgment (New York: Thunder's Mouth, 1992), p. xxxi.

3. Mark Lane, "Fact or Fiction? The Moviegoer's Guide to the Film JFK," Rush to Judgment (New York: Thunder's Mouth, 1992), p. xxxiiii.

4. James Riordan, Stone (New York: Hyperion, 1995), pp. 390-91.

5. Carole Zucker, "An Interview with Tommy Lee Jones." Figures of Light: Actors and Directors Illuminate the Art of Film Acting (New York: Plenum Press, 1995), pp. 48-49.
You may wish to see . . .
The JFK 100: Who Was Clay Shaw?
The JFK 100: Who Was David Ferrie?